Software Engineering Optimization
Home
---
Agile Development Conference - Test QA Primer -

Agile Development Practices Conference, Orlando, Florida, USA. November 07, 2012 PM
Orthogonal Defect Classification: An Agile Test/QA Primer - Ram Chillarege, Chillarege, Inc.
Can defect root cause analysis be made agile? Can we transform a multi-hour task from the classical world of software engineering into one that takes minutes and yields greater insights? Learn how Orthogonal Defect Classification (ODC) extracts semantics from defects and turns them into insights on the development process using analytics. After a quick overview of ODC, Ram Chillarege presents a case study to illustrate the method using real-world data on an agile project. They used ODC Triggers to measure test effectiveness at the end of every sprint to evaluate the effectiveness of testing compared to earlier sprints. This ODC process takes just minutes and brings its insight into the realm of the agile development practices. Put a powerful analytical technique in your agile toolbox to increase the velocity of your agile project and find new ways to reduce defects while measuring the quality of testing.
Software Testing Best Practices
This is a list of software testing best practices, whose durability has surprised me. I put this list together when we launched the software testing initiative across IBM more then a decade ago. Over the years, it surprises me how many times it continues to be downloaded - thousands every month! I keep thinking I need to revisit this list, and I will. But, it still makes a good read - as evidenced by its popularity.
What is Software Engineering Optimization?
Its all about speed, cost and quality. How do we take a currently operational software development or IT function and radically improve it based on your business need? It is not uncommon for several competing ideas to exist in an organization - there ought to be given the brain power in a software organization. But, what is the best business and technical answer? What are the tradeoffs? What are the risks? And finally, given the culture what is the most reasonable and prudent choice?
This is where Chillarege Inc. excells. We have the technical depth and business experience to help you make the best decision. We also have the analytics and methods to extract information from your operations to evaluate and illustrate your choices. And we bring our experience from across the industry to recommend what is best for your business.
Give us a call to explore your software engineering optimization possibilities.
When it comes time to increasing speed, reducing cost, or improving quality, there are few in the industry that can compete with the track record we have.
ODC - Orthogonal Defect Classification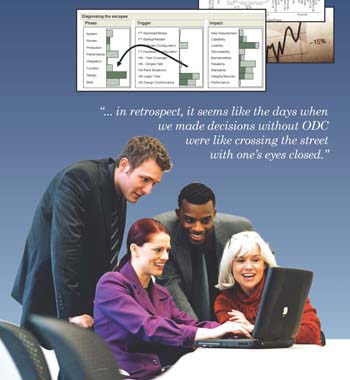 What ODC brings to software engineering can be captured in two words: INSIGHT and SPEED. One leads to the other. But, they are not the only things that cause our eyes to light up and the organization hum with excitement. It's the power we gain through practical knowlege to affect the right engineering and process change that makes the difference.
Join us and learn about ODC. And we will begin a journey that is exciting, profitable, and immensely satisfying. We will help your organization apply ODC at the most appropriate level given your business priorities. We will train your staff, help you with your tools and processes, and empower your leadership with insight.